Gemini-2 and Gemini-1 Telescope Mount Controller
ID the type of Losmandy Motor you have by it's Fins.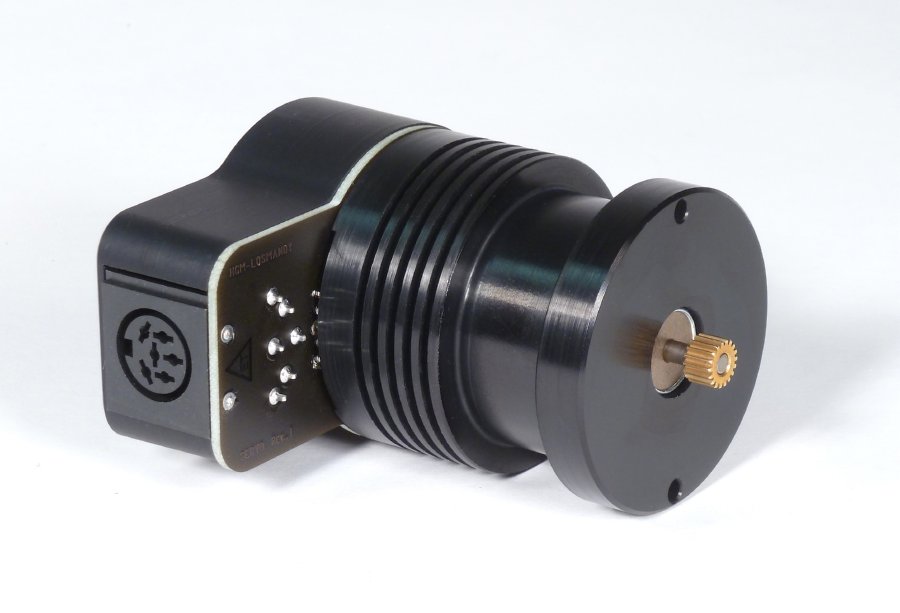 This is what the current version of the High Torque motor looks like.
This motor is reported to have higher torque than any previous motor.
The part number is SVM-HT and can be ordered from here Current price is $220.00USA.
This motor is 2.810" (71.37mm) long with a shaft diameter of 0.1250" (3.18MM). Also notice that this motor is larger in diameter that the Maxon motor was. That is the reason that the fins only come down about 50% of the motor (5 fins total). The mounting disk on all three motors are designed to fit the Gemini Servo Gearbox. These motors do not include the Gemini Servo Gearbox, so if you need that it must be ordered separately. See image here. Also make sure you ask for the mounting screws, as the ones for previous motors will not work in this motor, they are too long. Also the screw length to mount them is 15mm of thread. The 15 mm length does not include the head size.


The above image is from http://Losmandy.com


This is what the Old Maxon (Discontinued) motors looks like. The price used to be $300.00USA
The above image is from http://Losmandy.com



This is what the Old original (Discontinued) motors looks like. The price used to be $200.00USA
The above image is from http://Losmandy.com

Please see the Losmandy Price list for current pricing.

Be advised that Scott Losmandy has the cases for all the motors he uses made custom so that the motor and encoder will fit the way it is suppose to. The motors inside these cases are purchased and placed into these custom cases The motor themselves are from an undisclosed manufacture . The only place to get the motors with the mounting bracket manufactured into the case and the Encoder mounted on the end is from Losmandy.com
Here is a picture of the Standard and Maxon Motors courtesy of Rainer Ehlert


The Maxon motor is 73mm long not including the shaft, while the old standard motor is 61mm long not including the shaft.

Mr. Rainer Ehlert published a PDF on the Gemini_Users group on repairing the encoders of the Standard motor. He has given me permission to host it here. Thanks Rainer for all the help you have provide in the past.

Page last updated on Feb 21, 2016

This site is not for profit and sells nothing and asks for no money for any help it provides. This site is here to help fellow Gemini-2 and Gemini-1 owners. This Web Site is not associated with Losmandy-Hollywood General Machining Inc. or any of their employees and never has been. There is no guarantee that all the information is correct, but strives to provide the best information possible. The use of any information is at your own risk. The webmaster is an unpaid beta tester, and tries to work with other beta testers, and René the writer of the firmware.

-->